Lost wax casting can be traced back 6000 years to the Indus Valley civilization.
It's first ever recorded use was the creation of a brass amulet, but it's since been adapted for use with a wide variety of metals. I chose this technique to make my rings because of its tight tolerances and excellent, smooth finish, as well as to pay homage to the time honoured history of jewellery making.
Design and Modelling
Every collection starts as a loose collection of ideas in my head. I like to draw inspiration from universal and pervasive themes. For example, the Symbol Chapter was influenced by the way in which symbols retain their meaning throughout history, and the Celestial Chapter reflects the majesty of space.
Once I have a concrete idea of what I want to create, I begin the modelling process by making a sketch of the ring profile. This step allows me to refine the ephemeral idea into something more tangible
Using traditional lost wax carving techniques, I begin bringing my design from paper to reality. This is the step where I test the comfort and sizing of the ring, exposing any flaws in the architecture.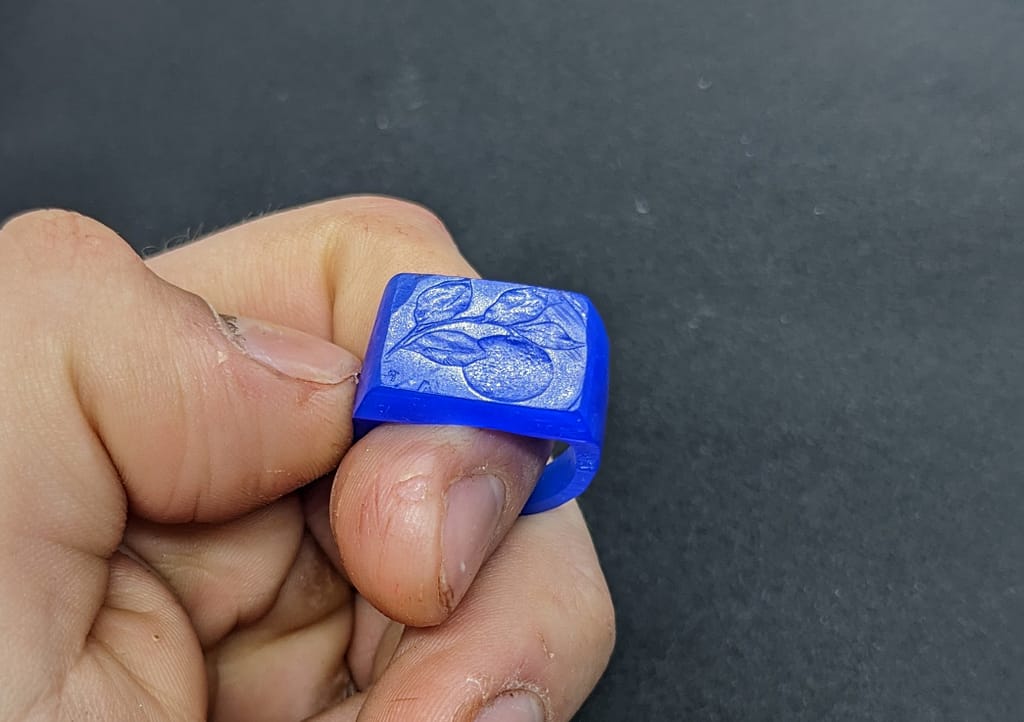 If the piece I'm working on is a commission, I'll touch base with the customer to get their thoughts on the draft. Once I have the customers thoughts, I make any adjustments as required. It's now ready to be set in clay.
Reborn in Silver
Investment moulding is the next step in the process. This part involves placing the wax mould in a tub of a specialized concrete-like material and vacuum chambering it to remove any bubbles. The investment usually dries out in a couple hours. At this point it'll be ready for 5-12 hours in the kiln.
After its done cooking the freshly baked loaf of concrete is taken out and the fun part begins. Using a propane torch and a bunch of metal pieces, a cup / bucket / big bucket is filled with molten metal.
Finished Ring
After I polish and clean up the cast it'll look something like this. If you'd like to learn more about the finishing process click here. If you're interested in in getting your own ring made via the lost wax casting process, click here for the shop or here to learn more about my custom process.