Who am I?
I've been anonymous for a while because I want to keep the focus on the jewellery, not myself. But I realised this might seem a tad shady to some people so: My name is Mason Mignanelli, I live in Newcastle, and I've just finished my last year of highschool. I founded Urban Sterling in June 2020. When I've got time, my hobbies include classical guitar, MMA, lifting, and street photography.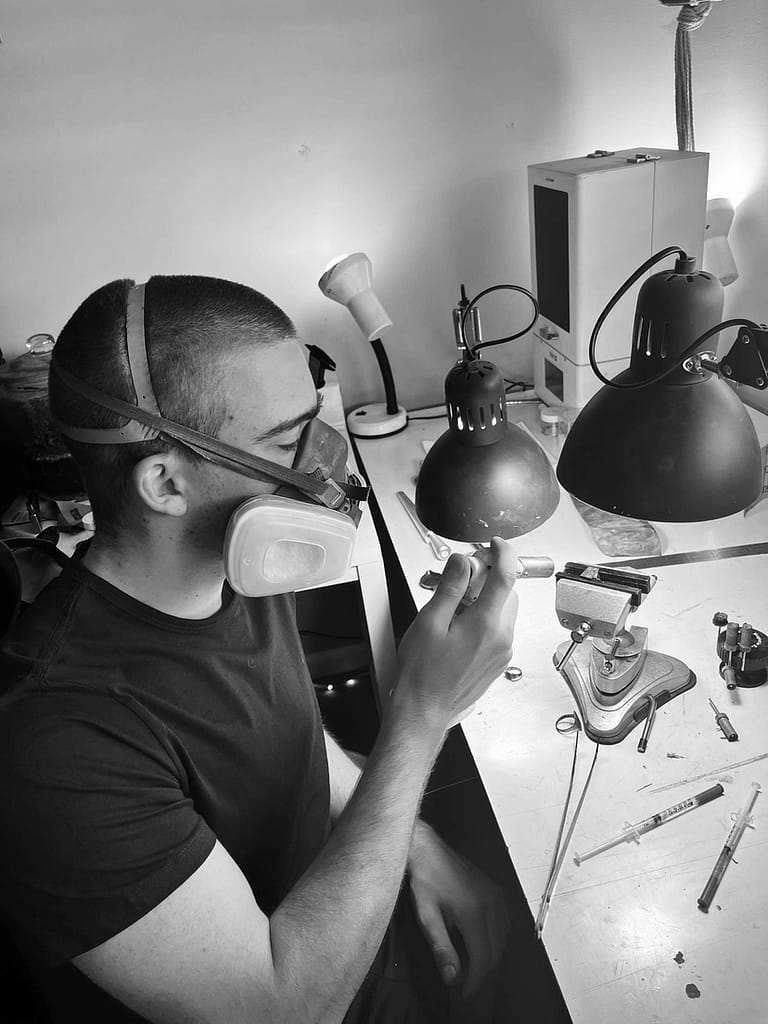 The Story Behind Urban Sterling
You've probably heard "stories in silver" before, whether in my Instagram bio, in an ad, or on the website. But what's the meaning behind it?
Back when I started Urban Sterling, I looked around at the landscape of the artisan silver jewellery industry and it felt impermeable. There were so many incredibly skilled and talented designers who I realistically had no chance of competing with. 
I saw brands like Crooked Howlet, and their designs blew my tiny mind (I even emailed them asking how the heck they did it.)
 I saw the work of master engravers like Ray Hood, and subsequently spent 3 hours going down the hand engraving rabbit hole. I was 16 and I'd never made jewellery before. They were either established international brands or had white hair and had been fully certified jewellers since before I was born.
Why would I bother trying to crack this impossible industry?
Stories, of course.
Before starting Urban Sterling, my only exposure to jewellery had been family heirlooms or custom pieces. I'm Italian, so all the men in my family had gold chains with little pendants of saints, and signet rings with the family crest. The women had earrings they'd bought 30 years ago from an artisan in a little village somewhere in Italy.
After a long enough period of time, the jewellery seemed to take on the traits of the owner. As a kid I'd look at these shiny little objects and they'd feel like high-level items in a videogame that I hadn't earned yet. When my grandfather died I inherited his pendant that he'd worn for over 40 years, and it felt like a real piece of him remained in it. I still never take it off.
These pieces always had an air of potent meaning to them. They felt like they were surrounded by history and full of stories. These rings and pendants and bracelets and earrings had earned their aura through years of adventures, victories and struggles. 
It got me thinking: "What if I could do that, but in reverse?" Take a story, and make it into a ring? 
To infuse the meaning directly into the piece, and leave some space for you to add your own over the years. 
Urban Sterling rings aren't meant to be just a shiny accessory to stick on your finger and lose in a pub bathroom. If you wanted that you'd buy a 12 pack of rings off AliExpress for $15. You're here for something more. Something to pass on to your grandkids. 
How did I start Urban Sterling?
It all began a couple years ago when I decided I'd try my hand at wax carving. I bought a jewellery wax tube from eBay as well as a $10 pack of clay carving tools and off I went. I was immediately fascinated by the process of carving jewellery and made about 20 (admittedly awful) rings moulds in a couple weeks.

From there I was pretty lost. I had neglected to figure out how you actually turn wax designs into metal. A lot of googling later I found out you're supposed to send them to a company that casts them for you, but this required either a jewellery apprenticeship certificate or a jewellery business ABN. I wasn't about to go find a jeweller to become an apprentice to just so I could cast my shitty rings, so I set up an ABN.

After asking the manufacturer a lot of stupid questions ("what is sterling silver?") I finally managed to get my first batch of rings cast. The excitement I had to see the finished product for the first time was significantly diminished when I realise they look like this: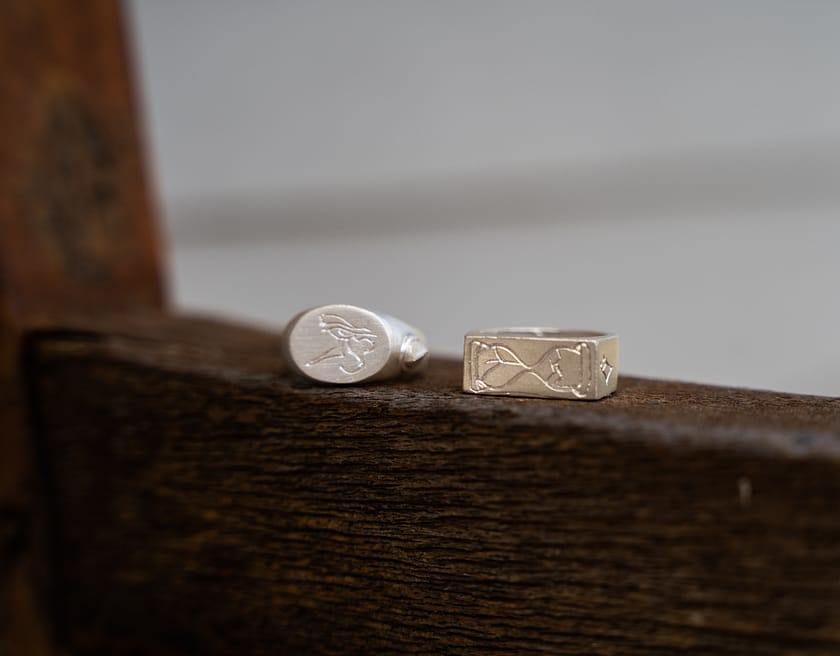 So at this point I didn't realise sanding, oxidising, buffing, emerying, and polishing were things I had to do. I also didn't know what most of those words meant. So once again I began Googling. I was way out of my depth here, but a few days of research later I was back on eBay looking for some more supplies. This article covers the finishing process I managed to figure out. I've optimised and tweaked it over the years so it's no longer exactly the same, but all the steps are still similar.

To my utter dismay I realised eBay isn't the place to go for specialist jewellery equipment, so I ended up ordering some stuff from a jewellery equipment supplier. Using this new bottom of the barrel equipment I began to gain practical experience in friction burns and cutting my fingers, but also the finishing process (aka. making things shiny).

As I honed my craft, others began to ask me about the ever changing styles of ring I wore each day. Surprisingly, some people even wanted to buy some, or pay me to create a custom piece. Over time, more and more people began to take interest in what I was doing. At the age of 16 I quit my hellish part time job at Macca's to try to grow this business into something bigger. I was unsure if people would still want to buy my products as time went on, but I thought since I was so young I may as well take the risk and see what happens.

I kept making rings, you guys kept liking them, and the rest is history. I like to view Urban Sterling jewellery as a storytelling medium, and each collection as a chapter. Every chapter is inspired by some sort of universal theme. The Symbol Collection is inspired by the timeless iconography that seems to be wired into the human psyche. The Celestial Collection takes cues from the awe inspiring and endless abyss of the cosmos, as well as Greek mythology. The Abyssal Collection reflects the inescapable cycle of life and death that all beings are trapped in, and the Augur Collection represents the divinatory arts and the meaning behind them.

I hope that each of my pieces inspires a pathfinder to struggle against the tide and carve their own path. If that sounds like you, there's a 11.11% discount coupon down below and free shipping above $100.

Thanks : )